A DIGITAL ASSISTANT FOR THE SHARED INBOX
Managing a shared customer service inbox can be costly, chaotic and counterproductive. That's why Esker designed a Customer Inquiry Management solution — powered by the latest and greatest in AI technology — to not only help your team deliver a better customer experience (CX), but also continuously improve as your business grows.
Address Inquiries Faster

No more messy inbox folders! Classify, route & answer requests quickly & accurately thanks to automation & AI-driven technology.

Build Better Relationships

Give your customers what they expect — a quick, consistent & helpful response. The end result? They keep doing business with you!

Be Proactive, Not Reactive

From strategic response & routing to real-time KPIs, Esker equips your team with the tools needed to provide a more proactive, personalized CX. "It takes maybe a second or two to validate an inquiry now. The time savings — particularly for our CSRs — is one of the biggest benefits."​
Aiza Toor │ Customer Service Manager | Palmer Holland
Read full story
NEVER MISS AN INQUIRY AGAIN
AI-DRIVEN EMAIL TRIAGE & MANAGEMENT
In a traditional shared inbox environment, classifying and routing emails can require the time of one or more dedicated FTEs (not to mention time answering inquiries). Enter Esker. Our solution does the heavy lifting so you don't have to — bringing a clear, unified vision to customer communications.
Inquiry classification uses NLP algorithms to auto-categorize incoming requests (orders, requests, claims, etc.), honing its accuracy over time.
Predefined email templates allow your customers to receive consistent auto-responses (which can be personalized to your liking) no matter which CSR is processing the inquiry.
Strategic routing enables whatever inquiries customer service cannot answer to be easily emailed to the person/department that can.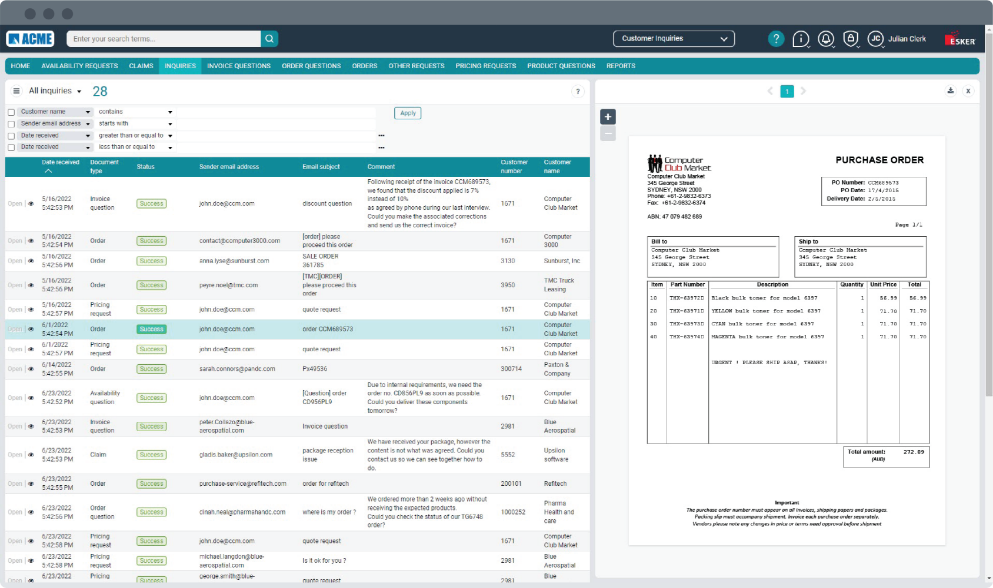 BRING DATA INTO EVERY DECISION
DASHBOARD ANALYTICS FOR EVERY USER
Customer service teams perform best when their strategies and actions are guided by data. Knowing this, Esker's intelligent solution captures the most pertinent analytics behind your customer communications and displays them as live KPIs in a simple, sleek and customized dashboard. Customer inquiry management never looked so good!
Monitor & analyze customer inquiries by type, date or customer
Track & evaluate performance of customer service team members
Examine trends to identify problems and opportunities as they arise.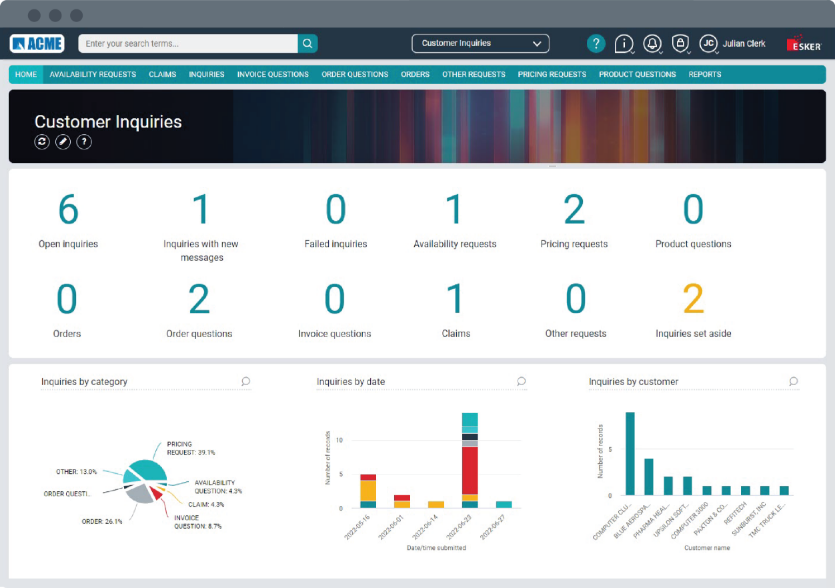 TRANSFORMING THE DNA OF
YOUR CUSTOMER SERVICE TEAM
 Digital Assistant for the Shared Inbox

SOLVE ISSUES IN REAL-TIME
CHAT TOOLS FOR YOUR TEAM & CUSTOMERS
When it comes to customer service, good collaboration goes a long way. That's why Esker users can initiate internal conversations with coworkers directly within the solution — allowing time-sensitive questions to be answered in no time at all.
Your customers benefit from convenient communication options as well, as they have the choice to send emails to your team or utilize the chat feature built into the customer portal. Yet another feather in your "easy to do business with" cap.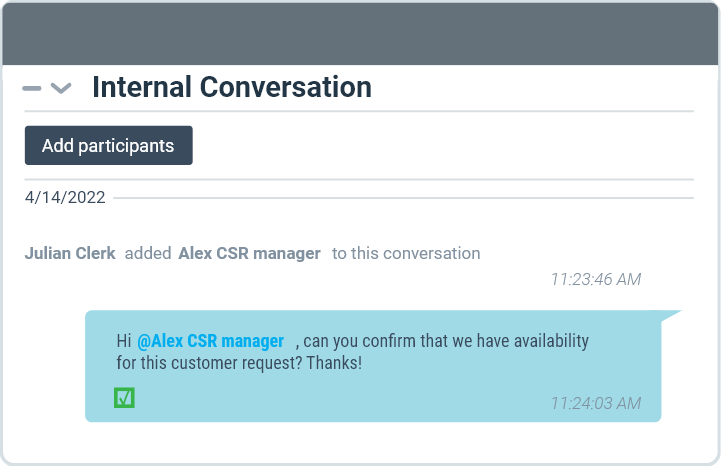 You're in good company. Explore some of the other companies and AP leaders that have benefited from automating their processes with Esker.