Title
Maintaining the Status Quo? It's Not a Risk Worth Taking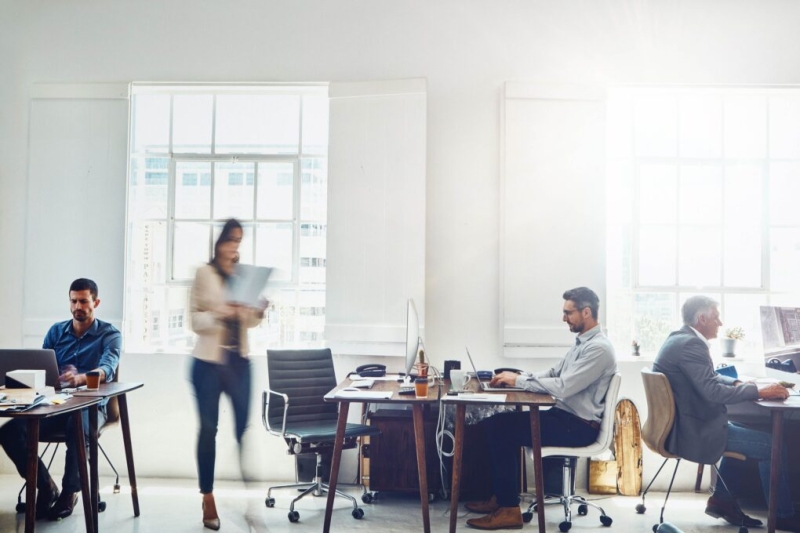 "Is there risk involved in change? Absolutely, but there is much more risk involved in not changing."
When I was in 7th grade, every Thursday was "current events" day, where we had to bring in a newspaper article to discuss with the class and pick out one quote and explain how it can relate to other parts of life. I don't remember what the original article was about, but the quote has stuck with me for many years.
A few years ago, I found myself wanting to make a drastic change in my behavior, mainly my daily routine. My daily routine since I joined the workforce, consisted of driving to work, sitting in traffic, sitting at my desk all day, driving home from work, sitting in traffic again, eating dinner and then sitting on the couch watching a sporting event. There was lots of sitting and not enough doing — something had to change.
It turns out that being the father of two extremely active boys makes you realize how out of shape you are. As a former college athlete, I should mention, that I was still able to beat my six-year-old in a race (and I have the video to prove it.) With my boys getting older and being involved in competitive sports, I wanted to not only be able to keep up with them but also wanted to be a good role model to show them what discipline and hard work can achieve. I knew that if I continued on the path I was on, it would become harder and harder to improve, so I set out to find a program that would jump-start me back into the world of physical fitness.
A friend of mine introduced me to Andy Frisella's 75 Hard program which consists of doing the following for 75 days, if you fail to complete all 5 things in a day, you fail and have to start over:
Follow a diet – no cheat meals, no alcohol.
Two 45-minute workouts – one has to be outdoors.
Drink a gallon of water.
Read ten pages of a non-fiction book.
Take a progress picture.
When you first hear what the program consists of, it can sound pretty daunting. All of the reasons I could fail were coming up in my head, but they never outweighed the results I was hoping to achieve if I were to succeed in completing the challenge.
Some of the risks involved in trying to complete it were:
Time – you have to set up a rigid schedule to not only complete the workouts but keep up with water intake. (Drinking half a gallon of water an hour before going to sleep is not advised.)
Injury – Going from zero workouts to two workouts per day is going 0-100, so injuries were definitely on the table.
Missing out – Most celebrations and family events revolve around food and drinks, and I never wanted to feel like I was missing out on anything.
Financial – Gyms cost money, new running shoes cost money, injuries cost money, healthy food costs money, bottled water costs money and it could all be for naught if I gave up or if it didn't help me achieve my goals.
I weighed each of these risks and I weighed them against the risk of doing nothing. It was pretty clear-cut, the challenge was accepted and a new lifestyle was to begin.
My experience was that it was just what I needed to recharge the batteries. The most difficult part of the challenge for me was drinking a gallon of water every day, but it was remembering to take a picture on Day 62 that almost made me fail. Most of the time it was great, I finished six books during the 75 days, my boys joined me on some of my outdoor workouts, and I finally felt like I was operating efficiently, both physically and mentally. Sure, it may have been a risk, but for me, it was a risk worth taking.
Risk plays a huge factor in business as well, especially when it comes to making a decision to either invest or not invest in new technology. The easy thing to do is to continue doing things the way you've always done them. For most companies, success can hide the flaws in their process, but as the pandemic has shown us, it doesn't take long for our flaws to be revealed.
Take for instance a company that is in an industry that is ripe for fraud and their credit department uses a manual process to onboard and approve new customers. Maintaining the status quo would seem fairly risky compared to the risk of improving their process to prevent any kind of fraud from happening in the first place.
Another example of maintaining the status quo vs. deciding to make a change can be a result of current economic conditions. When interest rates were low in 2020 and 2021, companies got complacent and allowed customers to pay slowly, as long as they were paid and the business was profitable. With interest rates having increased, the cost of funds are higher and companies are looking to improve cash flow and collect money quicker. The risk of doing nothing in a situation like this could prove costly for the business.
Whether it's an organization's Source-to-Pay or Order-to-Cash processes, there is a level of risk in continuing to do things the way you've always done them. Competitors are consistently looking for ways to improve while also gaining an advantage in the marketplace, and maintaining the status quo may be the riskier of the two options. If you are ever feeling like your current processes are unsustainable and would like to explore how other organizations turned to Esker to help them improve their processes and achieve their goals, please feel free to reach out to us.
As somebody in a newspaper clipping, I once cut out said, "Is there risk involved in change? Absolutely, but there is much more risk involved in not changing."