Seamless SAP ERP integration
Get your SAP® system operating at peak performance. 

We know SAP software
After partnering with SAP for over 20 years, Esker has the knowledge and expertise that customers using SAP ERPs want and need. Esker's automation solutions have certified integration with SAP, which ensures a smooth flow of business information through SAP software using a single, integrated point of support.
SAP technology and application expertise
Solutions developed, tested and preconfigured for SAP software
SAP master data and routines leveraged when automating order and invoice processing
Direct access to orders and invoices in SAP applications
Outbound mail and fax communication status back in SAP ERPs
Certified Integration for SAP S/4HANA® Public Cloud 
Esker's Accounts Payable and Order Management solutions have certified integration with SAP S/4HANA® Cloud, providing you with assurance that your solution will seamlessly work with your SAP system.
Whether your business is upgrading or starting fresh, or whether you're using the on-premises (S/4HANA), private cloud (S/4HANA Enterprise Cloud) or public cloud (S/4HANA Cloud) version, Esker is here to help. By automating all steps in the O2C and P2P cycles, all of the appropriate business leaders, team members, customers, and suppliers can rapidly and efficiently exchange information, eliminating any process holdups. 

Automate O2C and P2P processes directly in your SAP system 
Integrating Esker's Order-to-Cash and Procure-to-Pay suites with SAP business systems brings automation to every phase of processing.
SAP order processing management
Receive, process and route orders to staff for electronic validation while giving management full visibility into order statuses before they enter SAP. Orders are automatically archived in Esker, your in-house SAP content server or any existing archive, and linked back into SAP.
SAP purchasing process
Automate your indirect spend requisition process and automatically create resulting orders and good receipts in SAP. Turn non-PO invoices into PO-like invoices and accelerate your financial close procedures.
SAP accounts payable process
Automatically receive and enter supplier invoices, while gaining 100% visibility during routing and tracking — all within your SAP system. Esker captures the invoices, reads and processes them according to rules built into the platform, and creates the invoice in SAP FI or SAP MM.
SAP accounts receivable process
Reconcile all payments made by customers in real time in SAP. Esker automates the payment allocation and reconciles them with invoices, GL and customer accounts in SAP, ensuring accurate and up-to-date customer accounts.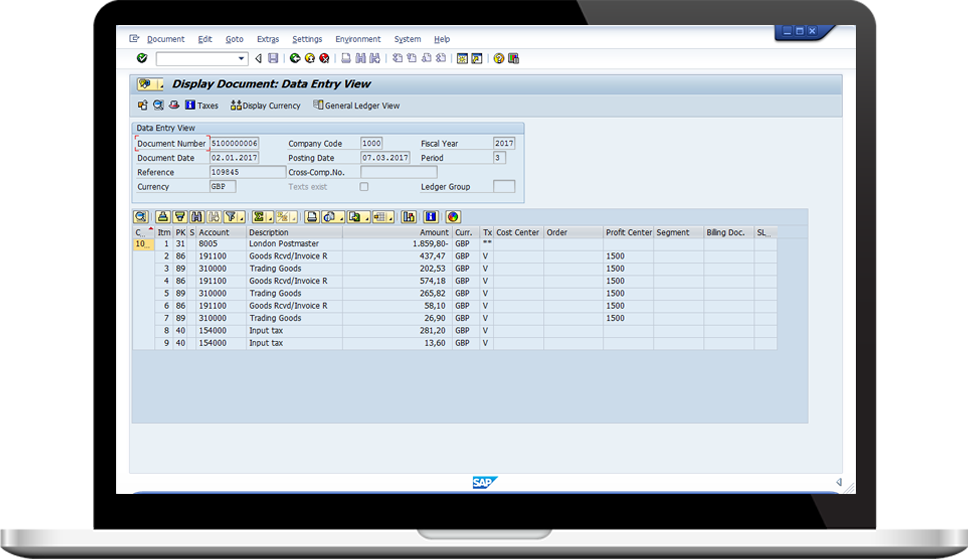 AUTOMATION IN AN SAP ENVIORNMENT
Get the C-Suite On Board With Automation

"Esker extends the capabilities of SAP S/4HANA Cloud, giving us a true end-to-end solution to automate our sales order process. It's this type of flexibility that makes Esker exactly the type of solution today's medical device companies can benefit from."​
Edward Sawyer | General Manager | Cerapedics
​
Read full story >
Enhance SAP efficiency during document delivery
Document delivery in SAP environments is streamlined thanks to Esker's integrated solution offerings:
Cloud Fax Services for SAP Send or receive a fax directly from/into SAP applications with Esker's fully integrated solution. Documents are submitted from SAP's solution and sent to an Esker production facility where they are processed and faxed per user specifications. SAP Business ByDesign customers benefit from all the advantages of Esker Cloud Fax Services. 
Mail Services for SAP Send postal mail as a service directly from SAP applications to an Esker production facility, where it is printed, folded, stamped and handed off to the postal service within 24 hours of creation. Once handed off, a mail status is fed into SAP software, updated in real time and made visible. Esker Mail Services is SAP's first solution partner for online postal mail services.
Fax Server for SAPEsker offers a connector for SAP applications that allows the sending and receiving of business documents directly from and into SAP Workstations. Documents can be routed to users, directly to SAP application modules, or archived for later use. The SAP interface manages status notifications that are sent back to the SAP system.
The most advanced integration features available
 The SAP integration capability developed by Esker brings together four key components to offer more flexibility than any other document delivery solution available in the SAP space.
 
Esker Connector for use with SAP apps

The traditional interface for fax, email and wireless message communications from SAP applications.

SAP print interface

Provides full routing of documents directly from SAP into Esker solutions, as well as full status of delivered jobs back into the SAP system.

SAP directory interface

Allows the Esker Business Rules Engine to lookup business partner delivery information in the SAP Vendor Master and Customer Master records.

SAP integration interface

Allows industry-standard data to be passed in and out of SAP applications, including data "extracted" from scanned, faxed, and printed documents.
Ask us anything
Are you getting the most out of your SAP investment?
Find out now. Our experts have all the answers!