Title
82% of Americans Expect Businesses to Adopt New Payment Technologies
Survey reveals that 41% of Americans expect that adoption to happen within the first year these technologies are available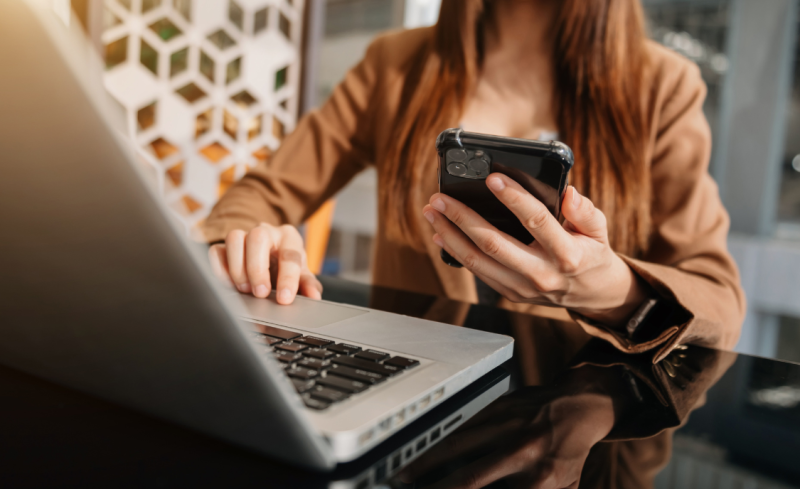 Purpose of this study
Long gone are the days when completing financial transactions online caused our hearts to skip a beat. Today, we do everything online — from paying bills to splitting the check for dinner. The financial experts at Esker wondered how that level of comfort affects our expectations of the companies we choose to transact with and how leaving those expectations unmet impacts who we choose to do business with. We conducted a survey in August 2023 to ask those questions and more.
What we found was that doing business online was a given now for all generations. Young to old are all managing their finances and paying their bills online, and the vast majority of them have the expectation that when a new payment technology becomes available, it will be made available to them.
Working with the third-party survey platform Pollfish, we asked 600 US adults in August 2023 to share their online payment habits, how those habits impacted their impressions of the businesses they work with regularly, and how they are using new technologies like peer-to-peer payment applications. The following are the results of our business payments survey.
82% of Americans expect the companies they do business with to adopt new payment technologies.
41% expect businesses to adopt these technologies once they've been proven and the kinks are worked out.
The other 41% say they expect the adoption to happen within the first year of availability, kinks or not.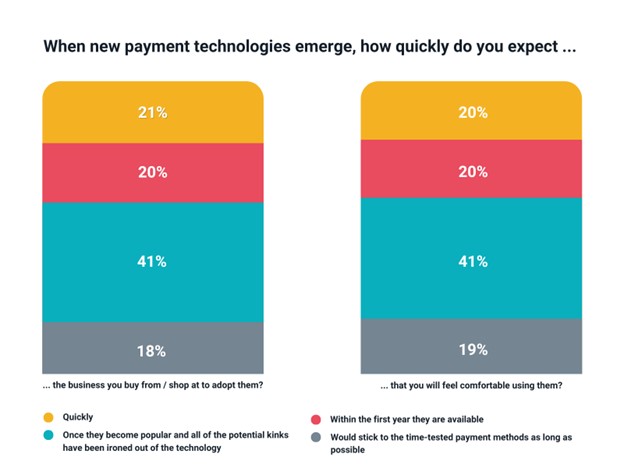 Perhaps this is because we expect businesses to behave in the same ways we do, and more than one-third of respondents said they adopt new technologies within a year of being available.
36% of Americans of any age adopt new technologies within the first year they become available, like peer-to-peer payment applications.
44% of people ages 25–44 say they adopt new technologies within a year.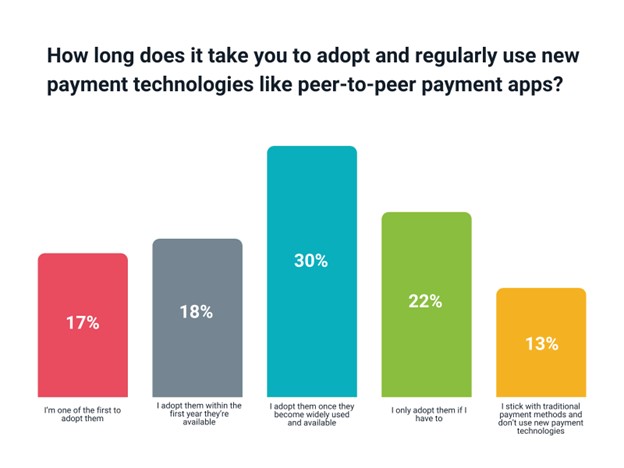 So, for businesses who've been slow to adopt things like peer-to-peer payment capabilities, the time to start that process may be now. And if those businesses' customer bases skew younger, the clock to bring on these technologies may be ticking louder than they realized.
While all generations had the expectation that newer payment technologies will be adopted quickly, younger generations are much more likely to allow their frustration over a difficult payment process to affect who they actually do business with.
59% of Generation Z (Gen Z) have chosen not to buy a product or service if no online payment option is available.
1 in 3 Americans decided to switch providers because the previous online payment process was inconvenient or difficult to set up.
That number jumps to 54% when looking at just 18- to 24-year-olds.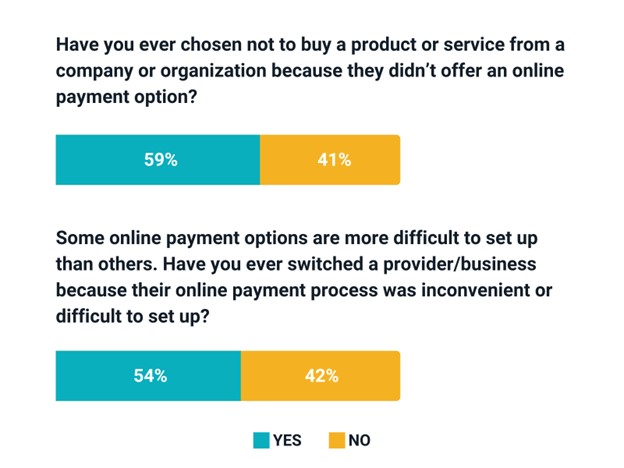 While this is data that many B2C businesses should find valuable, B2B businesses should also take note because what happens in the B2C world invariably makes it to the B2B world.
"The evolution of B2C payment behaviors is the catalyst driving transformation in B2B payment technologies," says Steve Smith, U.S. Chief Operating Officer at Esker. "Consumer expectations for convenient, reliable, and instantaneous payments have paved the way for a similar transformation in B2B transactions. The demand for seamless payment experiences has created a ripple effect in the business landscape, compelling enterprises to revisit their financial and technological strategies."
Other findings:
Only 20% of Americans are uncomfortable with autopay, but men are generally much more likely to trust their finances to technology.
On average, Americans have three peer-to-peer apps downloaded on their phone. PayPal is the most popular, followed by Cash App and Venmo.
Boomers are nearly 2x as likely to own a checkbook (and know where it is) than members of Gen Z (81% vs 45%), but many of us haven't written a check in more than a year.
No matter our age, the vast majority of us are comfortable with using autopay.
81% of us are using autopay to keep us current on at least one monthly bill, and most of us are using it much more than that. Almost half of us are using it to pay 50% of our bills or more.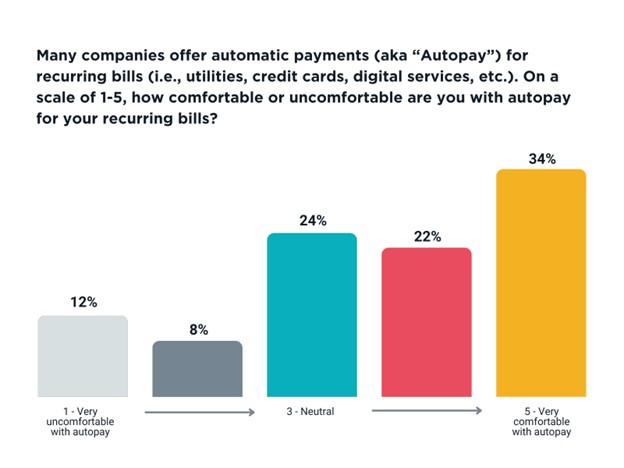 It may not be all that surprising then that a similar 80% of us say we don't have any discomfort with autopay as a technology and 56% of us say we are comfortable using it to pay our bills. 33% say we are very comfortable.
The most comfortable? Men. 71% of men say they are comfortable with autopay, compared to 43% of women. 61% of men are using autopay to pay half or more of their bills.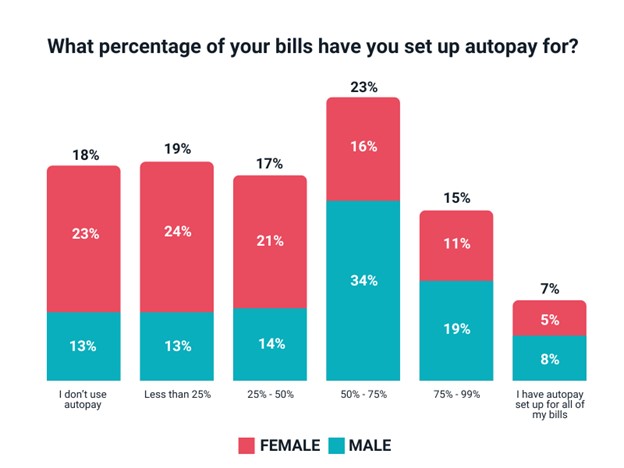 Most of us have three peer-to-peer apps on our phones. And those are likely PayPal, CashApp and Venmo.
On average, three is the magic number of peer-to-peer apps that we have downloaded.
PayPal was far and away the most popular app. 80% have it downloaded. CashApp was a distant second, with 58% having downloaded it, and 44% having downloaded Venmo.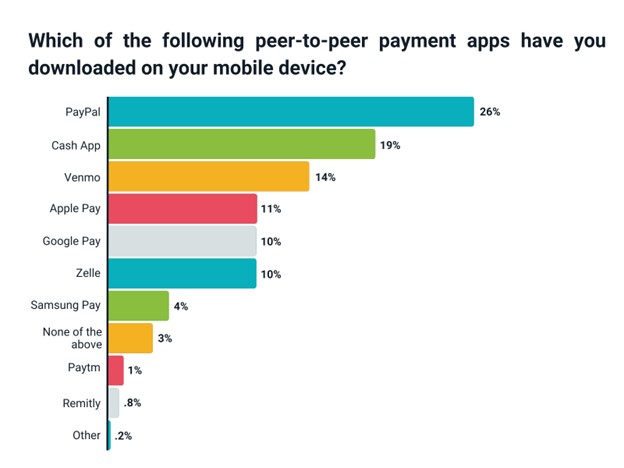 Unlike other technologies, most of us seem to use these peer-to-peer apps consistently once we download them. On average, a peer-to-peer apps user opens two apps regularly, with 78% who have downloaded peer-to-peer apps using them at least once a month.
The good news for businesses wanting to introduce peer-to-peer payments into their transaction process is that it's not about finding the right peer-to-peer app, it's more about bringing on any of them.
More than 60% of respondents would be likely to switch to a new app if the institutions they buy from start accepting payments via that app. Surprisingly, this is a better motivator to switch than even better app features — just 54% would consider a switch in that situation.
How transformative have online payments been? 58% of respondents either have never written a check or haven't written one in the last year.
Writing a check is a skill that used to be taught in schools, but it's apparently a skill that most of us aren't using often, if at all. While everyone surveyed felt confident they could do it, most aren't.
54% of people said they don't remember the last time they wrote a check, have never done it, or they haven't done it in the last year.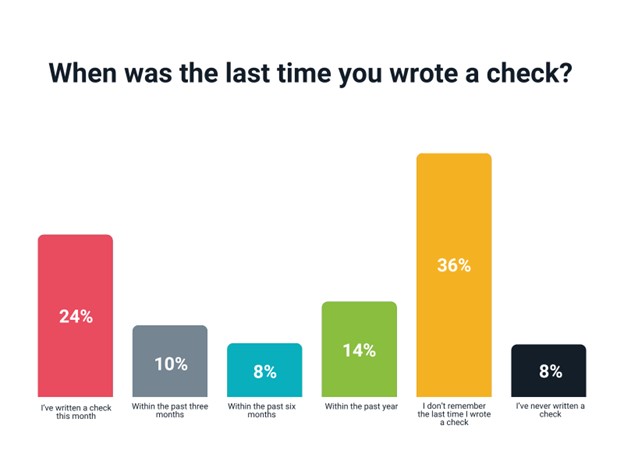 Remove the older generations, those respondents 45 and above, and that number jumps to 64% with a full 10% of those people saying they've never written a check at all. When you look at just 18- to 24-year-olds almost a quarter of them — 24% — have never done it.
"To stay relevant in this evolving landscape, businesses must embrace online payment technologies that align with consumer preferences," Smith adds. "Doing so will allow them to not only enhance B2B interactions but also create a more connected and efficient payment ecosystem, ensuring their position at the forefront of industry advancements, while failing to adapt will put them at a competitive disadvantage. Meeting customer expectations for streamlined, intuitive payment experiences isn't just a trend — it's a necessity for sustainable growth and success in the modern financial landscape."