Esker Q4 2021 Sales Activity
Strong company growth with 2021 sales revenue increasing 20%

LYON, France, and MIDDLETON, Wis. — January 13, 2022 — 
​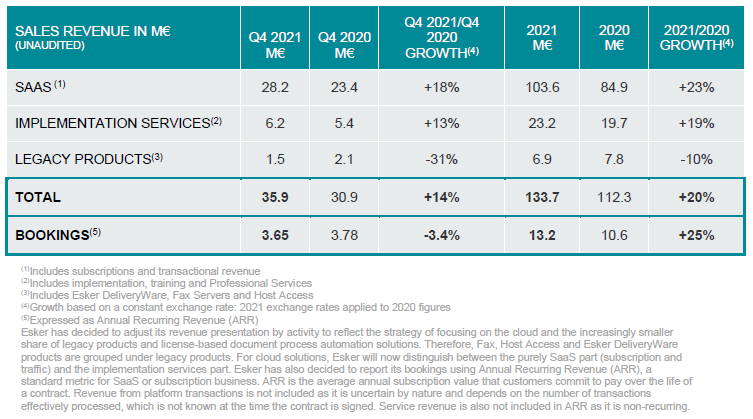 Record quarter, record year
Esker once again experienced its most successful quarter and year in company history, surpassing the 130 million euros mark for 2021. Esker 2021 sales revenue amounted to 133.7 million euros, a 20% increase over 2020 based on a constant exchange rate (+19% based on current rates).
Esker Q4 2021 consolidated sales revenue amounted to 35.9 million euros, a 16% increase over Q4 2020  based on current exchange rates (+14% based on a constant rate). Despite a slight decrease in volumes processed during the month of December due to the resurgence of the pandemic, cloud-based activities (up 18%) are driving growth, representing 96% of the company's business. This strong momentum is equally spread across all geographical areas, all of which posted solid growth, benefiting from the sales successes achieved during the year.
Continued strong pace of signed projects
Esker recorded a high amount of signed projects over the quarter. More than ever, businesses have shown a strong interest in automation solutions that deliver significant productivity gains to finance and customer service functions.
The Annual Recurring Value (ARR) of new contracts signed during Q4 2021 amounted to 3.65 million euros, slightly down from an exceptional Q4 2020 (numerous contracts deferred in the first months of the pandemic were closed in Q4). Q4 2021 is, in absolute value for ARR, the best quarter of the year and the second best in company history. This performance is all the more significant given that the pandemic resurgence in December 2021 delayed the signing of some contracts. In addition, due to slightly longer contract terms, the total value of contracts signed during Q4 reached 15.3 million euros, 20% growth compared to Q4 2020.
The ARR of contracts signed amounted to 13.2 million euros for the year (an increase of 25% over 2020).
The total value of subscriptions signed in 2021 increased by 38% to 48.0 million euros, compared with 34.7 million euros in 2020.
Strengthened financial structure for future growth
Esker expects to maintain its operating income at a level similar to that achieved in the first half of 2021. As of December 31, 2021, company cash rests at 39.2 million euros. With 38.6 million euros in net cash (versus 30.7 million euros on December 31, 2020) and close to 140,000 treasury shares immediately available, Esker has the financial resources necessary to pursue its strategy focused on accelerating organic growth. Targeted acquisitions could also be envisioned to accelerate the company's coverage of adjacent markets and enhance value delivered to customers.
Outlook for 2022
Esker expects to achieve double-digit organic growth in 2022, which should bring sales revenue to around 155 million euros if the EUR/USD exchange rate remains unchanged. At this level of growth, profitability is expected to be between 12-15%.
https://www.esker.com/sites/default/files/press_releases/esker_q4_2021_jan2022_3.pdf