Esker Q4 2020 Sales Activity
Optimism for 2021 thanks to increase in signed projects 

LYON, France and MIDDLETON, Wis. — January 12, 2021 —
​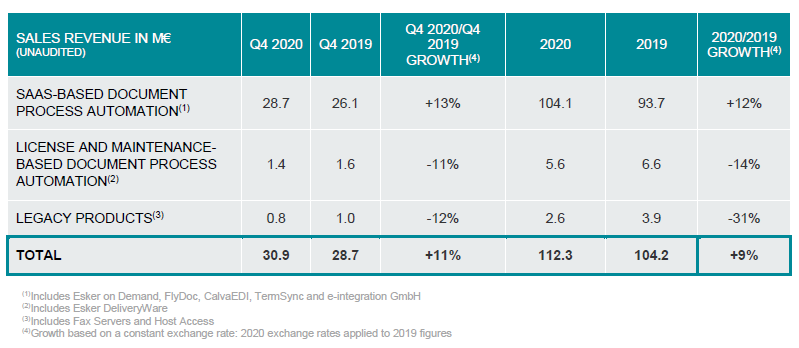 Record quarter, record year
Despite a particularly difficult global health and economic situation, Esker experienced its most successful quarter and year in company history in terms of business activity, surpassing the 110 million euros mark for 2020. Esker 2020 sales revenue amounted to 112.3 million euros, a 9% increase over 2019 based on a constant exchange rate (+8% based on current rates).
Esker Q4 2020 consolidated sales revenue amounted to 30.9 million euros, a 8% increase over Q4 2019  based on current exchange rates (+11% based on a constant rate).
Following the Q3 trend, cloud-based activities grew 13%, driven by subscriptions and traffic (+18%), but were impacted by consulting (-3%), which saw fewer signed projects during Q2 and at the beginning of Q3. The volume of documents processed continues to grow despite Q4 actual levels still being 5-10% below pre-COVID estimates. This is due to the economic impact of the various restrictions put in place by numerous governments that are affecting Esker's customers' business activities.
Record number of signed projects
Similar to the end of Q3, Esker recorded numerous signed projects in Q4. After a wait-and-see period related to the first lockdown measures, businesses have shown a strong interest in automation solutions that deliver significant productivity gains to finance and customer service functions and allow them to continue to operate when the majority of employees are working from home.
The cumulative value of newly signed contracts in 2020 (bookings) increased by 17% compared to 2019, to reach 34 million euros. The cumulative value of new contracts signed in Q4 is up 30% compared to Q4 2019 (which previously held the record), suggesting a strong activity in the first half of 2021.
Maintained profitability and financial structure for future growth
Esker expects to maintain its operating profits similar to 2019. Lower marketing and travel expenses combined with a slower recruitment increase will offset the impact of the pandemic on revenue growth.
The controlled management of its growth allows Esker to maintain its financial results while strengthening its technical and commercial investments to ensure sustainable growth over the coming years.
As of December 31, 2020, company cash rests at 44.9 million euros. With 30.7 million euros in net cash (versus 20.2 million euros on December 31, 2019), and close to 140,000 treasury shares immediately available, Esker has the financial resources necessary to pursue its strategy focused on accelerating its organic growth combined with external growth operations.
Outlook for 2021
Esker expects to achieve double-digit organic growth in 2021, which should bring sales revenue to around 128 million euros if the EUR/USD exchange rate remains unchanged. At this level of growth, profitability is expected to be between 10-15%.
https://www.esker.com/sites/default/files/press_releases/esker_q4_2020_2.pdf