Esker Q3 2021 Sales Activity
Company growth continues strong in Q3 with sales increasing by 23%

LYON, France, and MIDDLETON, Wis. — October 12, 2021 — 
​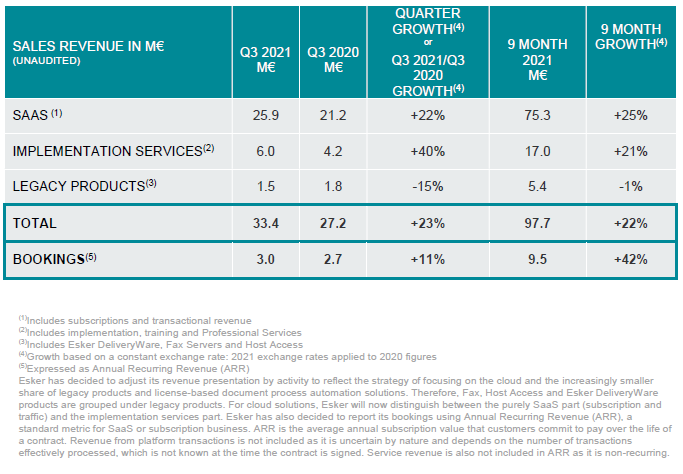 Cloud services in full swing
Esker Q3 2021 sales revenue amounted to 33.4 million euros, a 23% increase over Q3 2020 based on constant exchange rates (+20% based on current rates). For the first nine months of 2021, Esker's sales growth increased 22% to reach 97.7 million euros (based on both current and constant exchange rates).
Growth continued to be driven by the development of cloud solutions, which grew 24% in Q3, representing 94% of the company business. The company's cloud-based activities continued on their usual growth trend in Q3 (+22%) as a result of increased utilization of the platform by existing users, linked to COVID-19 recovery, as well as the implementation of recently acquired customers. Overall company growth was also reinforced by significant acceleration in implementation services revenue for Q3 (40%). This comes as a direct result of the significant increase in new bookings experienced by the company since the end of 2020.
Continued strong pace of new contracts
Esker signed a high amount of new contracts over the quarter. More than ever, businesses have shown a strong interest in automation solutions that deliver significant productivity gains to finance and customer service functions.
The Annual Recurring Value (ARR) of new contracts signed during Q3 2021 continues to show dynamic growth even compared to Q3 2020, which benefited from the strong economic recovery after the first wave of the pandemic. Q3 2021 ARR reached 3.0 million euros (11.6 million euros in subscriptions over the total duration of the contracts), 11% growth compared to Q3 2020.
Since the beginning of the year, the ARR of new contracts signed amounts to 9.5 million euros, an increase of 42% (34.5 million euros in subscriptions over the total duration of the contracts) compared to 2020.
Strengthened financial structure for future growth
As of September 30, 2021, company cash rests at 38.0 million euros. With 36.9 million euros in net cash (versus 25.1 million euros on September 30, 2020) and close to 140,000 treasury shares immediately available, Esker has the financial resources necessary to pursue its strategy focused on accelerating organic growth. Targeted acquisitions could also be envisioned to accelerate the company's coverage of adjacent markets and enhance value delivered to customers.
Outlook for 2021
Esker's growth should continue to accelerate due to the significant sales success achieved during the first nine months of the year. Esker is once again raising its organic growth forecast for the full year 2021 from 17% to 18%. This should bring sales revenue to around 132 million euros in the absence of any unexpected disruptive events and assuming constant exchange rates. This increase takes into account a much more demanding base effect in Q4 2021, due to the acceleration of the global recovery linked to the phasing out of the COVID-19 restrictions in Q4 2020. At this level of growth, profitability is expected to be between 12-15%.
https://www.esker.com/sites/default/files/press_releases/esker_q3_2021_en.pdf