Esker Q2 2022 Sales Activity
Esker achieves a new record quarter with 19% sales revenue growth

LYON, France, and MIDDLETON, Wis. — July 12, 2022 —
​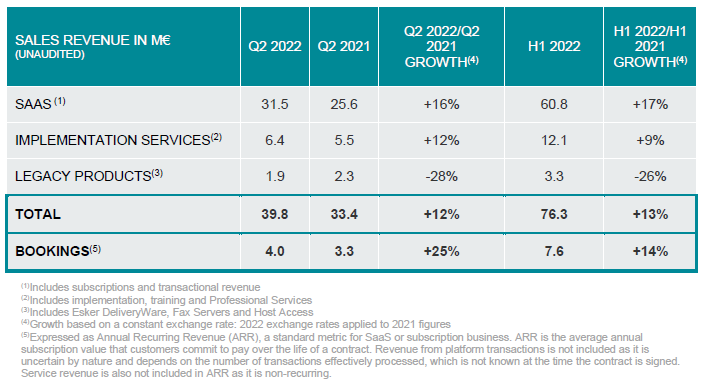 Record quarter, record half year
Esker Q2 2022 sales revenue amounted to 39.8 million euros, an 19% increase over Q2 2021 based on current exchange rates (+12% based on constant rates). Half-year sales revenue grew 19% based on current exchange rates (+13% based on constant rates) to 76.3 million euros. Once again, Esker has experienced its best quarter and half year in company history.
Cloud revenue (+23% based on current rates and +16% based on constant rates) continued to drive growth, representing 79% of the company's business. This excellent performance, despite an unfavorable base effect, is the result of the many customer contracts signed in previous quarters that are now progressively entering production.
Implementation services gradually returned to a more normal pace (+17% based on current rates and +12% on constant rates) after the pandemic resurgence in Q1 and the resulting shortfalls of resources and personnel for both Esker's teams and its customers.
The performance of traditional licensed and legacy products declined sharply, in correlation with tightening market conditions. These products represent only 5% of company business.
Best quarter in terms of bookings
Esker reported a record number of bookings in Q2. The Annual Recurring Value (ARR) of new contracts signed during Q2 2022 increased by 25% over Q2 2021 to 4.0 million euros (14.6 million euros, or +41% over the total duration of the contracts). The dynamic pace of signed contracts in Q2 was particularly noted in France, the United States and Australia.
Strengthened financial structure for future growth
As of June 30, 2022, company cash rests at 43.1 million euros, after settlement of the acquisition of Market Dojo, dividend payment and obtaining a new 12 million euro loan. With 26.5 million euros in net cash (versus 33.6 million euros on June 30, 2021) and close to 130,000 treasury shares immediately available, Esker has the significant financial autonomy necessary to pursue a strategy that is focused primarily on accelerating organic growth, supplemented by targeted external growth operations aimed at advancing coverage of adjacent markets and enhance value delivered to customers.
Outlook for 2022
Given the strong Q2 2022 performance and despite the accumulation of economic uncertainties, Esker maintains its full-year organic growth forecast of 15-16%. At this level of growth, profitability is expected to stand at around 12-15%.
https://www.esker.com/sites/default/files/press_releases/esker_q2_2022_july_2022.pdf