Esker Q2 2019 Sales Activity
Esker achieves a new record quarter with sales exceeding 18% growth

LYON, France, and MIDDLETON, Wis. — July 16, 2019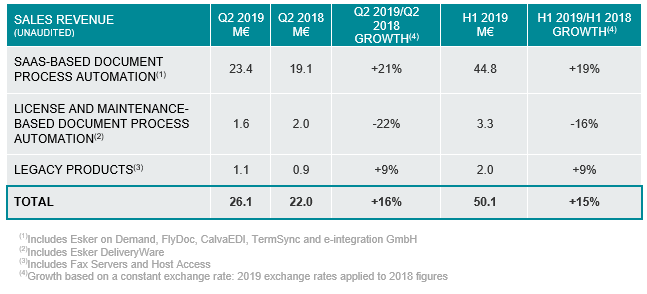 A record quarter  
Esker Q2 2019 consolidated sales revenue amounted to 26.1 million euros, a 16% increase over Q2 2018  based on a constant exchange rate (18% based on current rates). 
The difference between constant currency growth and reported growth is mainly due to the strong improvement of the U.S. dollar against the euro. The average euro/dollar ratio was 1.12 in the second quarter of 2019 compared with 1.18 in the same quarter of the previous year. 
Esker has, once again, experienced its most successful quarter in company history. For the first half of 2019, sales revenue amounted to over 50 million euros, a 15% increase based at constant exchange rates (17%  based on current rates).  
Esker's activity continues to be driven by cloud-based activities. Revenue from SaaS-based automation solutions increased by 21% over the quarter, representing 90% of the company's business. This performance reflects the implementation of numerous contracts signed in previous quarters as well as the development of Esker's existing customers.
Significant number of new contracts signed
Esker signed a number of important new contracts that will fuel company growth for the quarters ahead. The cumulative value of new contracts signed is up 51% compared to the first half of 2018.
Strengthened financial structure for future growth
As of June 30, 2019, company cash rests at 21.5 million euros after dividend payment. With 15 million euros in net cash (12 million euros on June 30, 2018) and 140,000 treasury shares immediately available, Esker has the financial resources necessary to pursue its strategy relying mainly on organic growth.
Positive outlook for 2019 
In recent years, the first half of the year represents 49% of the company's annual sales. If this pattern is applied and currencies do not vary significantly, Esker can expect to announce sales revenue of over 100 million euro for 2019. 
The positive impact of the U.S. dollar over the course of the first six months of 2019 is expected to wane in the second half of 2019.  
https://www.esker.com/sites/default/files/press_releases/esk_160719_q2_2019_gb.pdf