TermSync receivables management
Improve collection efficiency from the convenience of a cloud platform. 

Customer-centric service meets CRM-like support 
Collections management will never be the same again (and that's a good thing). With TermSync technology powering Esker's Collections Management automation solution, both vendors and their customers benefit from a faster, sleeker and more transparent collections process. Vendors can manage their entire AR workflow (much like a sales team uses CRM technology), while their customers are given access to a self-service web portal where they can make payments, pose questions, apply credits and more.
Improve customer relations thanks to a self-service web portal
Increase administrator efficiency by automating manual AR steps
Speed up customer payments and reduce collection disputes
Manage all post-sale collection interactions easily and electronically
Get valuable AR insights via management reports and more
Provide integrated payment functionality to customers
Building a Business Case
How to Confront Outdated Processes and Make Your Project a Top Priority


Support your customers through a
​secure, on-demand portal
Esker's Invoice Assist platform, powered by TermSync, acts as a one-stop support center for everything invoice-related for the convenience of your customers. Used by over 500,000 businesses worldwide to manage AR invoices and payments, Invoice Assist provides all of the necessary self-service, support and engagement tools for a more productive, proactive post-sale experience. 
Technology to take your collections
processes to the next level
Most AR departments already have an ERP/business application in place to streamline collections management — but they're far from perfect. Esker's TermSync platform addresses the limitations of these systems with technologies designed to maximize productivity, visibility and efficiency.
AR BOOSTAn innovative, CRM-like system that transforms outdated manual collection tasks into a highly efficient process with tools such as task escalation, root-cause analysis and more.
MANAGEMENT REPORTSAn advanced system of reporting tools and metrics that are used to set team and individual goals, measure results through scorecards, and benchmark or reward performances.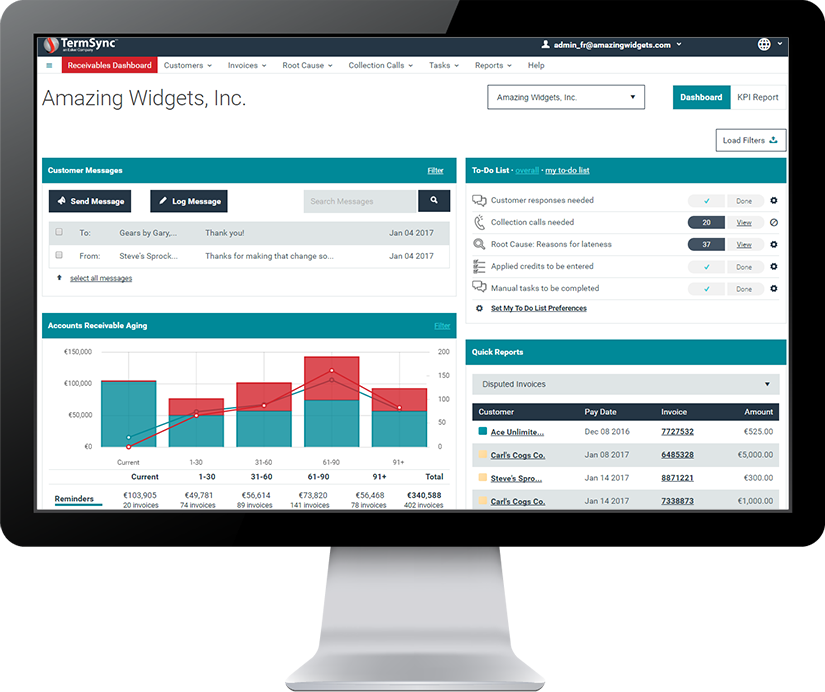 B2B Billing and Collections Guide
9½ Takeaways from Our Benchmarking Survey


Get up and running quickly, with
little to no IT involvement.  
Because all of the functionality in Esker's TermSync offering is built into a cloud-based platform, the solution can be deployed quickly with little to no IT investment and at a lower upfront cost. Plus, it's compatible with virtually every ERP/business system — no matter how antiquated or diverse the landscape — making process overhauls unnecessary. 
You're in good company. Explore some of the other companies and AP leaders that have benefited from automating their processes with Esker.
Ask us anything.
Want to know more about TermSync? Don't be shy. Tell us how
we can help, and our Esker experts will be on it in no time!