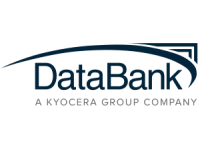 ​
Company Overview
Databank is a division of Kyocera. They are focused on delivering value to their client through projects dedicated to digital transformation.
By joining forces, Databank and Esker empowering customers to improve their end-to-end cash conversion cycles. With existing capabilities to digitize, extract and index data from digital and physical documents, DataBank was looking for a partner that could help further automate the accounts payable (AP) process. Esker's AI and machine learning capabilities complement DataBank's business processing automation portfolio, providing DataBank a comprehensive end-to-end solution to deploy with customers. DataBank will implement and support Esker's entire procure-to-pay (P2P) and order-to-cash (O2C) suite by leveraging DataBank's professional services teams, business process automation (BPA) operation centers and Esker's suite of solutions.

"Our partnership with Esker allows us to tell our end-users that we now have a true turnkey solution to drive significant impact for their businesses"
Chad VanNorman |  COO at DataBank
You're in good company. Explore some of the other companies and AP leaders that have benefited from automating their processes with Esker.