Esker Q1 2019 Sales Activity
A record quarter fueled by growth in cloud-based solutions

LYON, France - MIDDLETON, Wis. — April 16, 2019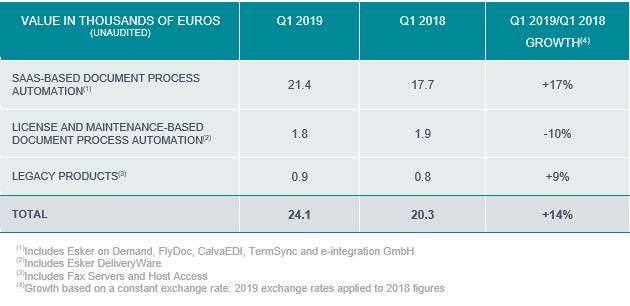 A record quarter  
Esker Q1 2019 consolidated sales revenue amounted to 24.1 million euros, a 18% increase over Q1 2018  (14% based on a constant exchange rate). The difference between constant currency growth and reported growth is mainly due to the strong improvement of the U.S. dollar against the euro. The average euro/dollar ratio was 1.14 in the first quarter of 2019 compared with 1.23 in the same quarter of the previous year.
Esker has, once again, experienced its most successful quarter in company history. Esker's activity continues to be driven by cloud-based activities. Revenue from SaaS-based automation solutions increased by 17% over the quarter, representing 89% of the company's business. This performance reflects the implementation of numerous contracts signed in previous quarters as well as the development of Esker's existing customers.
SaaS-based traffic and subscription revenues increased by 20% while consulting grew by only 8%. This difference is due to the onboarding efforts for new implementation partners as well as the integration of new Esker consultants. This effort will accelerate the startup of newly signed customers and the continuation of strong growth momentum for the quarters and years ahead.
Strengthened financial structure for future growth
As of March 31, 2019, company cash rests at 25.3 million euros. With 17.9 million euros in net cash (17 million euros on December 31, 2018) and 140,000 treasury shares immediately available, Esker has the financial resources necessary to pursue its strategy of combining organic growth and acquisitions.
 
Positive outlook for 2019
Esker expects to achieve double-digit organic growth in 2019. Strong recurring revenue (80% of sales in Q1) provides an excellent forecast. Esker's record value of new contracts signed will feed the company's growth in 2019 and in the quarters to come. The cumulative value of these new contracts is up 79% compared to the first quarter of 2018.
If the EUR/USD rate remains unchanged at current rates, Esker will benefit from a slightly positive effect on its published growth in the second quarter and second half of 2019.
https://www.esker.com/sites/default/files/press_releases/esker_q1_2019_0.pdf